SALE, SALE, SALE!
Are you running around trying to remember all the gifts you need to buy?  Don't forget yourself!  My inventory reduction sale starts at 10 a.m. on 12/6 TODAY, and ends at 4 p.m. on 12/17.  I'm doing it a little backwards from the norm (because that's me, a little backwards!).  Read on for details of how much you can SAVE.
WEBSITE CUSTOMERS!  Please call me to place your order OR if you're ordering one canvas only, use the code IRS (inventory reduction sale).  That will take 20% off your canvas but call if you want to purchase more than one canvas so that you receive the discount.  810-694-3040.  Leave a message if calling after hours.
Buy any one IN STOCK painted canvas get 20% off (all sale-priced canvases will be discounted further!)
Buy two and the HIGHER PRICED CANVAS is 25% off (that's the backwards part, usually we discount the lowest item.)
Buy three or more and the HIGHEST PRICED CANVAS is 30% off, 25% off the others!  (If you're buying six, I'll discount the two highest priced canvases at 30% off).
Ask me to thread up one or more of your treasures and receive 20% off all threads I pull for the canvas.  I'll want to know your favorite threads…and your LEAST favorite!
This is the time of year to stock up!  Shop early for best selection.  Sale ends Saturday, December 17.
Holiday Hours and Vacation Time
Homestead Needle Arts will be open regular hours through Friday, December 23.  The shop will be closed from Saturday, December 24 through Monday, January 2 and will re-open on Tuesday, January 3.  Make sure your loved ones have their gift certificates on order by then and earlier if I'm mailing it to you.  I'm happy to keep it in the shop for you and they can just let you know what they purchased.   If you have a NEEDLEPOINT EMERGENCY while I'm closed for the holidays, please email me using homesteadneedle@sbcglobal.net.
NEW Charts from Needle Delights Originals
I will kit any of these for you, just ask me.  I may need to substitute some threads.  Some of these will be ordered, some are in stock.
Cupids Logs 9 x 9″ designs, all Watercolors
Gold 4 x 4″ design, the 50th design in her Color Delights series.
Christmas Rounds #5 & #6, about 3″ in diameter.
Not yet on the website, please call me to order, 810-694-3040.
Charts by From Nancy's Needle
I will kit any of these for you, just ask me.  I may need to substitute some threads.
Quilted Penguin, about 8 x 8″.
Not new but perfect for the season:
Airing the Winter Quilts, 4 x 8″
Winter Barn Quilts, 10-1/4″ square
Winter Medley, nearly 11-1/4″ square
Kreinik has Announced
All Premax scissor prices are being raised effective January 1.  If you want a pair before then, please visit the Kreinik website and then CALL ME TO ORDER.  If you place the order on their website it will be fulfilled by another shop.
Kreinik metallic thread colors 012L and 026L have been discontinued as they can't get the raw materials any more.  IF YOU'RE USING THEM IN A CURRENT PROJECT, let me know immediately if you need more as I will have to search nationwide to get them for you.
FINISHING 
Your finished projects are coming in fast and furious now as my finisher gets your lovely pieces done in time for the holidays.  PLEASE NOTE:  Your support of Homestead Needle Arts means the world to me.  I can only continue to do this if you continue to purchase your canvases and threads from me.  Thank you so much!
Finish It Yourself in Time for Christmas
Here's a link to the YouTube video showing ideas for quick gifts you can stitch for the holidays.  Some of these items have sold, so just call me to see if what you want is in stock.  810-694-3040.  Hurry and get stitching!
Sale Items, New Items
My website is continually updated with New items and Sale Items.  Just visit www.homesteadneedlearts.com and GO SHOPPING!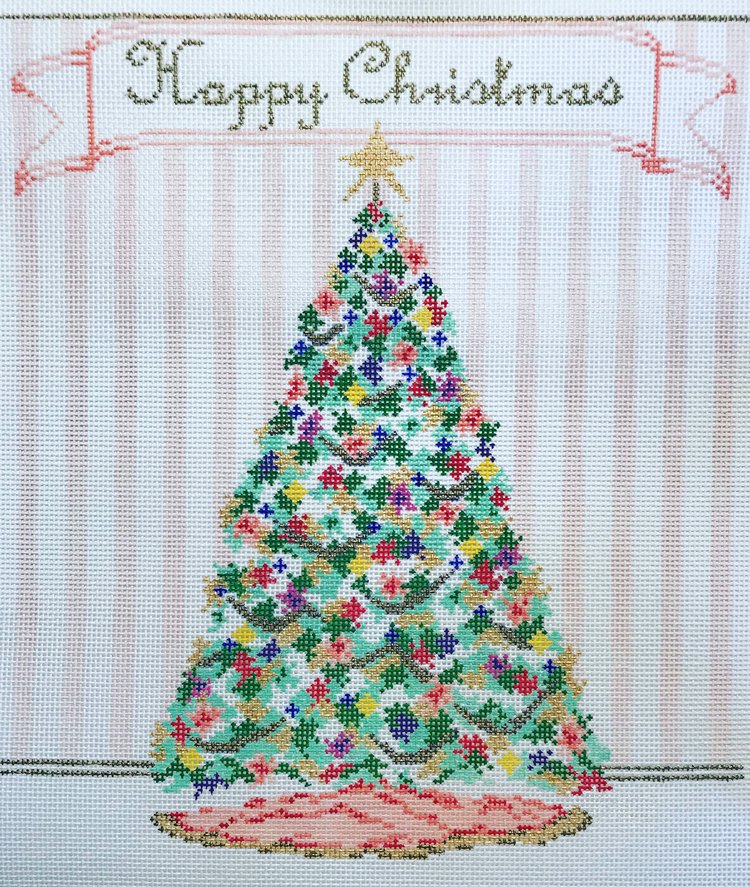 January Trunk Show & Happenings
Plum Stitchery is our January 2023 Trunk Show.   Want to browse early?  Check it out HERE.
Wednesday Classes Continue
Please call me at 810-694-3040 for seat availability and information.  Classes are held from 2 p.m. to 3:30.
See you soon!
Theresa
810-694-3040